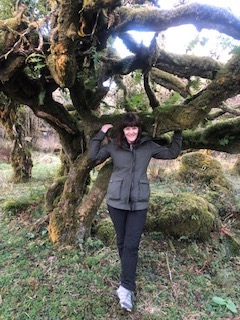 Geraldine Kilkelly, Swedish Massage, Cranio Sacral Therapist
Geraldine Kilkelly, LMT, CST, APP is an experienced Massage Therapist who incorporates different modalities to suit the client.
Graduated from the Swedish Institute of Massage in New York City in 2000. She obtained an Associate Degree in Occupational Studies Massage Therapy. She has continued to specialize through certification programs in Polarity Therapy at the Soma-Psyche Institute and Craniosacral Therapy at the Upledger Institute. Geraldine has a strong belief in the power of bodywork to change your experience of the world. She is a licensed Massage Therapist in New York who has 18 years experience and recently returned to Ireland. She is now living in Kilcolgan, Co. Galway, Ireland
For appointment: Call 085 7666160
Through the body's original language of sensation, we can unwind traumatic life experiences which take root in our physical system, often bypassing the conscious mind, but later manifesting as depression, sleeplessness, anxiety, chronic stress, chronic pain and a host of other ailments.
Utilizing the gentle and restorative techniques of Craniosacral Therapy and Polarity, combined with a body centered verbal process, the mind can begin to integrate what the body has retained.
Each modality, though different in its approach, promotes deep relaxation and encourages a connection with a natural and innate healing intelligence moving you in the direction of health and wellbeing. An integral aspect of this work is developing an awareness of how our physical form retains our life history in a unique mind/body relationship.
When the human body, mind and spirit are in balance, we create optimum health. Often we seem beset by a lack of clarity and we feel less vital, less focused and less present in our own lives. Whether you want to reduce stress and anxiety, restore emotional harmony, relieve muscular aches and pains, or address a specific medical condition. I invite you to experience one of the following forms of bodywork to renew and transform your health.